November 19, 1909 – November 11, 2005
Peter Ferdinand Drucker was an Austrian-born American management consultant, educator, and author, the founder of modern management. He contributed to the philosophical and practical foundations of the modern business corporation and invented the concept known as management by objectives and self-control.
Peter Druker was born in a small village called Kaasgraben at the outskirts of Vienna, in a Lutheran "liberal" family. His mother had studied medicine and his father was a lawyer and a high-level civil servant. Hans Kelsen, a jurist and philosopher, the author of the Austrian Constitution was his uncle. He grew up in a home where intellectuals, scientists, economists, philosophers, historians met and new ideas were discussed.
After graduating highschool in 1927, Drucker couldn't find employment in Vienna, and so he left to Hamburg and later Frankfurt. He worked at various jobs: as an apprentice at an established cotton trading company, then as a journalist. At the same time, he studied   law at the University and earned his doctorate in International law in 1931. 
In 1933 he moved to London, England, where he worked for an insurance company, then as the chief economist at a private bank. In 1934 he married an acquaintance from Frankfurt University. This was already after the NAZIs came to power, and the couple moved to the United States. There, Peter Drucker became a University professor, an author and a business consultant. In 1943 he became a naturalized citizen of the US.
At the beginning, he served as a professor of politics and philosophy at Bennington College, from 1942 to 1949. Then they moved to New York, where he was a professor of Management from 1950 to 1976. In 1971 he went to Claremont Graduate University in California, where he developed one of the country's first executive MBA programs for working professionals. Until his death, he was professor of Social Science and Management at Claremont. In his honor, the University's management school was named the Peter F. Drucker Graduate School of Management.
Peter Drucker died in 2005 of natural causes at 95. He had 4 children and 6 grandchildren. His wife died in 2014 at the age of 103.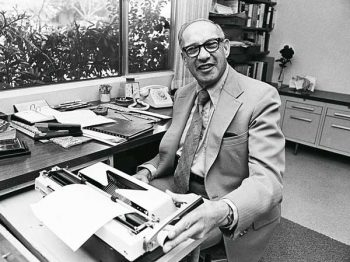 In his youth, Drucker was influenced by the leading economists who came to his father's home. In 1934 he went to hear a lecture given by  John Maynard Keynes, a British economist, whose ideas are the basis for the school of thought known as Keynesian economics. He wrote about this lecture: "I suddenly realized that Keynes and all the brilliant economic students in the room were interested in the behavior of commodities, while I was interested in the behavior of people."
During the following 70 years, relationships between people were the focus of his writings, not the crunching of numbers. His books were instructions on how organizations can bring out the best in people, and how workers can find a sense of community and dignity in a modern society organized around large institutions. 
In his writings, Peter Drucker has predicted many of the major developments of the late XXth century. The privatization and decentralization; the rise of Japan to economic world power; the decisive importance of marketing; and the emergence of the information society with its necessity of lifelong learning. 
Until the end of his life he consulted businesses and non-profit companies.
His name is carried on in three institutions:
In addition, the annual International management conference in Vienna, his home town, honors his legacy and is named Global Peter Drucker Forum.
Quality in a service or product is not what you put into it. It is what the client or customer gets out of it.
Doing the right thing is more important than doing the thing right. There is nothing quite so useless as doing with great efficiency something that should not be done at all.
If you want something new, you have to stop doing something old.
So much of what we call management consists of making it difficult for people to work.
The best way to predict the future is to create it.
Quality is planned in, not inspected in.
The aim of marketing is to know and understand the customer so well the product or service fits him and sells itself.
The most important thing in communication is hearing what isn't said.
Management is doing things right; leadership is doing the right things.
There is nothing so useless as doing efficiently that which should not be done at all.
People who don't take risks generally make about two big mistakes a year. People who do take risks generally make about two big mistakes a year.
Rank does not confer privilege or give power. It imposes responsibility.
No institution can possibly survive if it needs geniuses or supermen to manage it. It must be organized in such a way as to be able to get along under a leadership composed of average human beings.
Making good decisions is a crucial skill at every level.
So much of what we call management consists in making it difficult for people to work.
Management by objective works – if you know the objectives. Ninety percent of the time you don't.
This post is available also in:

עברית